Air & Surface Odor Eliminators
Get rid of bad smells from fabrics, surfaces, and indoor air.
Fresh Wave IAQ's Air & Surface Spray is ideal for fast, targeted odor control. It instantly bonds and eliminates odor molecules in the air smells that have penetrated deep into fabrics or resting on surfaces. Spray in areas where the smell is strongest and odors are instantly eliminated.
Benefits of Air & Surface
Fast, targeted odor control
Powerful enough to remove smells from fabrics and the air
Safer Choice Recognized product
Air & Surface Spray have earned the U.S. Environmental Protection Agency's Safer Choice recognition, recognizing it as a product safer for use and the environment. Because it uses plant oils and pure water — instead of harsh chemicals and toxic additives — it's not dangerous for use around people or animals and is less harmful to the planet.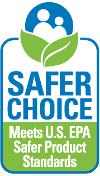 Spray
2 fl. oz.
8 fl. oz.
32 fl. oz.
1 gallon
5 gallon
Concentrate *
*Concentrates are not Safer Choice recognized