Controls odors as it evaporates.
The Fresh Wave IAQ Gel is a continuous release formulation that provides constant odor elimination. As it evaporates, Gel releases odor-removing molecules into the air. Ideal for combating persistent odor problems, place Fresh Wave IAQ on a shelf, pan, or wall mount and let natural airflow do the rest.
Benefits of Odor Removing Gels
Removes odors continuously, without the need for reapplication
Replace every 15-60 days (depending on size)
Non-toxic, natural active plant oils, plant-based
Fresh Wave IAQ Gel has earned the U.S. Environmental Protection Agency's Safer Choice recognition, recognizing it as a product safer for use and the environment. Because it uses plant oils and pure water — instead of harsh chemicals and toxic additives — it's not dangerous for use around people or animals and is less harmful to the planet.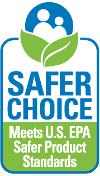 The Fresh Wave IAQ Gel Wall Mount is designed to hold one 8 fl. oz. jar of Gel. Peel-and-stick backing lets you mount to most surfaces. Use for constant odor elimination in medical rooms, restrooms, hospital patient rooms, long-term care resident rooms, locker rooms, and fitness rooms.
Ready-to-Use Jar
8 fl. oz.
16 fl. oz.
24 fl. oz.
Refill
2 gallon
16 fl. oz.
5 gallon